Provide-a-Home Program
The Provide-a-Home Program includes two categories of homes: Care Homes for young men and women and Host Homes which can also accommodate minors.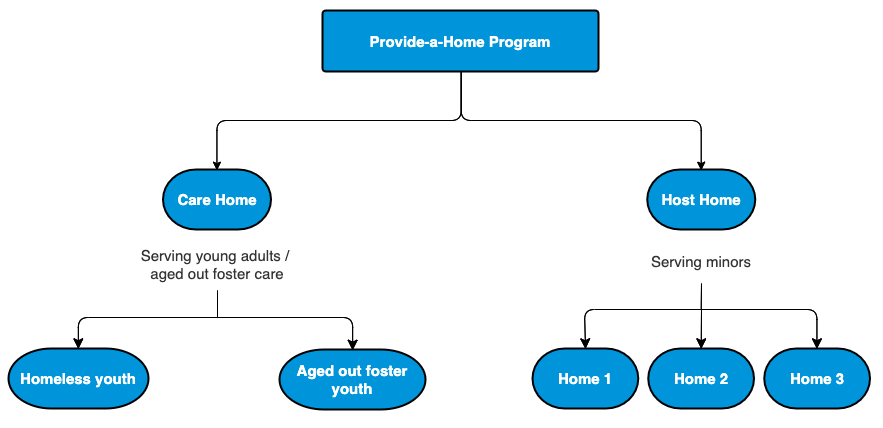 Care Home
Harbor Hope Center of Washington currently operates two Care Homes. One Care Home houses up to six young men and the other provides housing for up to six young women.
Trained Resident Advisors provide supervision, leadership, and education to residents. The goal is to transition the young adult into stable, independent living.
All youth entering the program are tested for drug use and assigned a drug counselor with the goal to keep them sober and drug free.
Harbor Hope Center of Washington has provided 5,780 bed nights, 17,340 meals, 3,000 food deliveries and hundreds of student transports. Our Back-to-School events in partnership with other community organizations has provided over 650 new pairs of shoes and school supplies.
It costs $550 per week or $2,380 per month to provide the Care Home and services to one person. Your donation can make a meaningful difference in the lives of these youth.
Host Home
Our Host Home Program provides young people who are experiencing homelessness with a community member willing to provide a home and other support to the young person.
A typical Host Home is a private home with a compassionate person or family who wants to make a difference in the life of a young person. An extensive intake procedure and background check is conducted on all Host Home providers and candidates to assure a safe environment for the student and host(s).
Training is provided to Host Home providers to assist them in integrating students into the family. Harbor Hope Center of Washington closely follows State of Washington guidelines for Host Home Programs.
Provide-a-Home Program
A comprehensive support program for Washington youth experiencing homelessness that provides a home, education, and training to equip them for independent living.
FOOD
Aiming to work collaboratively with other not-for-profit organizations, our food program is designed to fill social service gaps and end hunger in our community.
MENTORING
Our mentorship program focuses on helping students and parents develop key life skills allowing them to become self-sufficient and thrive after graduation.
TRANSPORTATION
To help homeless students maintain their daily commitments, our volunteers provide rides to school, appointments, and activities.
CLOTHING
For many of these children, buying clothing is a financial burden. We provide clean, wearable clothing to make student success more likely.
CHANGE A LIFE TODAY
It is our vision to break the cycle of homelessness among Washington's youth. Your contribution to Harbor Hope Center of Washington provides a hand up, not a handout, to at risk students and those experiencing homelessness.